The verticutting season is approaching, and Trilo has various mechanical verticutting machines in stock for all types of turf. Forward rotation, consistent operation, low maintenance, low power usage, and fast delivery are some of the benefits.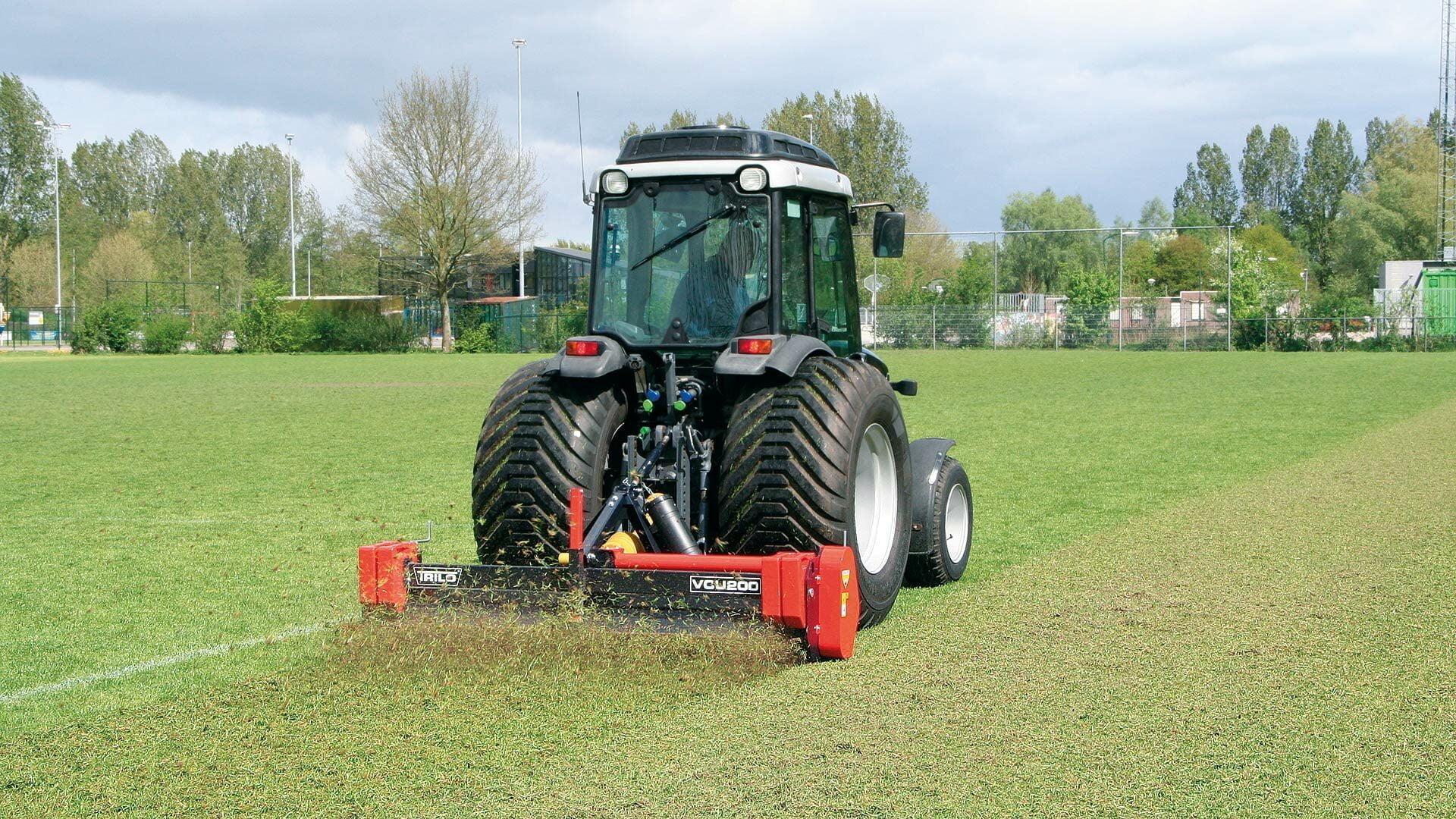 Trilo's verticutting machines are mechanically driven and made of high-quality steel. They work with compact or semi-compact tractors and require as little as 15 to 25 horsepower. Trilo offers a choice of two different types of verticutting machines, each available in two variants with different blades. You can choose between 3mm wide fixed 5-point blades made of manganese or tungsten. Tungsten blades provide consistent operation, higher wear resistance, and a very sharp cut, making them perfect for warm-season turf and achieving a precise result.
What sets Trilo verticutting machines apart is their forward rotation direction, which ensures the best turf quality. Forward rotation prevents damage to the turf and roots. The blade first cuts through the top layer, while the turf residue wraps around and is discharged at the back. The machines can be easily and stepwise adjusted to a depth of up to 4 centimeters using the thread spindles. Weight distribution prevents our machines from climbing on the turf when the ground is hard.
This verticutting method improves water permeability, oxygen supply, aeration, and nutrient uptake by your turf, especially when combined with fertilization. Additionally, mechanical verticutting is an excellent alternative to pesticide use.
Our machines are low-maintenance, reliable, and have lower fuel consumption due to their low power requirements. We also offer an undulation kit, consisting of two additional wheels mounted on the machine, allowing it to move independently from the tractor.
Trilo produces multiple verticutting machines simultaneously, ensuring sufficient stock availability. Production planning starts over 9 months before the season. With our continuous improvement, we can deliver quickly, unlike other competitors. Our machines have proven themselves in the market and enjoy worldwide trust due to their excellent value for money and robust construction.
The verticutting season is approaching, so act now! Give your turf the care it deserves and choose Trilo. Contact us today to place your order!